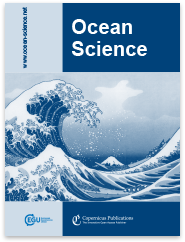 Co-editors-in-chief: Karen J. Heywood, Mario Hoppema, Bernadette Sloyan & Anne Marie Treguier
eISSN: OS
1812-0792
, OSD
1812-0822
Ocean Science (OS) is a not-for-profit international open-access scientific journal dedicated to the publication and discussion of research articles, short communications, and review papers on all aspects of ocean science: experimental, theoretical, and laboratory. The primary objective is to publish a very high-quality scientific journal with free Internet-based access for researchers and other interested people throughout the world.
Highlight articles








Recent papers




News
08 May 2023
Outstanding Reviewer Award 2022
The Outstanding Reviewer Award 2022 was awarded to Kjetil Våge, University of Bergen, Norway in recognition of their excellence in reviewing.

08 May 2023
Outstanding Editor Award 2022
In recognition of their excellent services as Editor, Katsuro Katsumata, JAMSTEC, Japan was selected as Outstanding Editor 2022.

Notice on the current situation in Ukraine
To show our support for Ukraine, all fees for papers from authors (first or corresponding authors) affiliated to Ukrainian institutions are automatically waived, regardless if these papers are co-authored by scientists affiliated to Russian and/or Belarusian institutions. The only exception will be if the corresponding author or first contact (contractual partner of Copernicus) are from a Russian and/or Belarusian institution, in that case the APCs are not waived.
In accordance with current European restrictions, Copernicus Publications does not step into business relations with and issue APC-invoices (articles processing charges) to Russian and Belarusian institutions. The peer-review process and scientific exchange of our journals including preprint posting is not affected. However, these restrictions require that the first contact (contractual partner of Copernicus) has an affiliation and invoice address outside Russia or Belarus.